BT Murrayfield wins Best Bar None Award 2016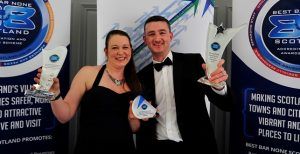 At a star-studded awards ceremony held at the Central Hotel in Glasgow on March 24, BT Murrayfield's Experience team won big in the Scottish Best Bar None Awards 2016.  Alongside a win in the category of Best Specialist Entertainment Venue, they also walked off with the Champion of Champions Award to be crowned the best licensed venue in Scotland, earning great praise in the process from judges.
The initiative, developed in Manchester in 2003 and subsequently rolled out across the UK, promotes socially responsible licensed venues.  It aims to address alcohol related crime, particularly anti-social behaviour and violence, to deliver a safer night time economy.  Assessed by a wide-ranging team of judges from senior police officials to licensing board members and drinks industry officials, each venue undergoes strict assessment, which for BT Murrayfield took place during the visit of 67,000 fans for the Scotland international for France.
As one of 11 specialist category winners on the night, the judges then chose an overall Champion of Champions winner to receive an overall award.  In explaining Elior's award,Mandy Haeburn-Little, Director of Scottish Business Resilience Centre, commented, "we were particularly impressed by the attention to detail which you showed- not only did you show care in managing carefully the balance between non alcoholic and alcoholic drinks, but we were  very impressed by the concept of safe hosting stations which you use so well. We were also taken by the level of staff engagement, education and training and the way in which you have built such a great culture throughout the organisation.
Your concept also of welcoming and thanking every member of the visiting crowds you can was also very impressive and I hope one which can be mirrored by other organisations. However the most astonishing fact was that not only do you achieve these things, but the sheer scale of what you do. To consider taking these steps on a match day, Calcutta Cup or Six Nations is really staggering."
Commenting on the team success, Murrayfield Experience Head of Operations Laura Carey said, "to receive such a prestigious award is a huge accolade.  To then top that with the Champion of Champions award, and receive the praise we did, is overwhelming.  Every member of the great Elior team at BT Murrayfield has contributed to this success, and deserves the recognition it offers.  Well done to everyone!"