BT Murrayfield wins Chef Team of the Year Award
Over 370 guests from football and rugby stadia across the country have celebrated their 'off the pitch' successes at The Stadium Events & Hospitality Awards 2016 .
The awards, sponsored by Heineken, were held at the Ricoh Arena, home to Premiership Rugby Club Wasps and Coventry City Football Club.  The evening included a fine dining four course menu, awards ceremony, followed by DJ and after party onsite at the Grosvenor Casino Coventry until 4am.
The prestigious awards were the 12th annual awards organised by Stadium Experience, and recognised the efforts and dedication shown by the catering, conference and events teams at every football and rugby stadium across the UK. 71 football and rugby clubs were nominated for awards, with 20 different stadium venues scooping at least one of 33 gongs (across 11 categories).
Chef Team of the Year Award – Sponsored by Hotelympia
VenuElior are proud to announce that BT Murrayfield were nominated in The Chef Team of the Year Award and it was judged as part of the live kitchen event at Hotelympia, ExCel Centre in London.  The team (headed up by David Wood and  Paul Smith) won the Bronze Award. Congratulations to you all!
The Challenge: with just one hour to prepare, cook and present a three-course menu suitable for their Club Chairman to entertain the Head of the FA or RFU to dinner. The team put considerable thought into the menu.
"In compiling today's menu, I've tried to offer an insight into the wide range of food we offer at BT Murrayfield. Whether it is matchday hospitality for Scottish Rugby President, Ed Crozier and his guests, hand-held food offered in our mobiles to fans attending a Scotland game, our award  winning players' menus, or conference menus to delegates attending out with matchday, my brigade and I are committed to promoting the very best of Scottish ingredients. To deliver on that promise, I am assisted by a number of suppliers and producers across Lothian, and further afield. I thank them all for the continued support in making BT Murrayfield the food venue it is.
Why are we committed to promoting the very best of Scottish ingredients? For many reasons; we reduce food miles, increase flavour by using seasonal Scottish ingredients, support our local farmers and suppliers, grow our name in the community and we have the ability to trace back each item to the farm on which it is grown or produced. Provenance is very important to our team, the quality of the raw ingredient is the starting block for all we do, treat it with love and passion, marry it with flavours that compliment it and we can create a masterpiece worthy of our guests".
The BT Murrayfield team presented these mouthwatering dishes:
Starter: Compression of Smoked, Cured and Fresh Salmon with Crème Fraîche & Avruga Caviar, Hot Parcel with Salicornia, & Cured Loin with Caper & Shallot Dressing, Mustard Mayonnaise & Rock Chive Pesto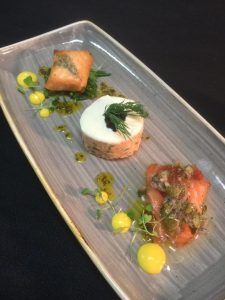 "We start in Arbroath at RR Spink & Sons, a family run business that has been producing smoked Scottish fish for over 300 years. The team still prepares every smoked trout and salmon by hand – from curing and smoking to slicing and finishing. This dedication to using traditional methods makes their salmon some of the most delicious we have come across. We are presenting three elements on today's plate. The first is a compression of fresh, cured and smoked salmon seasoned with cayenne pepper, chopped chive, dill, parsley and a splash of lemon juice. This is set in a mould and topped with crème fraiche and a little avruga caviar and a dill sprig. The second is salmon loin, which we have marinated in juniper berries. Wrapped in filo pastry, it's baked and served hot, on salicornia (or samphire as it's better known). It's served alongside a second loin, which has been coated in a mix of star anise, coriander and mustard seeds, sugar and salt. My team turn it regularly through the eighteen hour process before it's rinsed, patted dry and carved last minute. All are accompanied by a French mustard mayonnaise, and dressed with a rock chive pesto and hippo tops. These micro herbs add a complementary taste. The former has a distinct garlic flavour, whilst the purpled tinged leaves of the latter look and taste like a spicy watercress".
Mains: Trio of Dalkeith Pork – Braised Pork Tongue and Confit of Pork Cheek Bon Bon with Peppered Clap shot, savoy, shallot and bacon chiffonade, cocotte potatoes and apple sauce.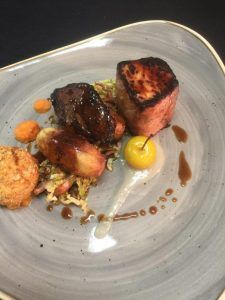 "For main's today we are visiting our good friend Robin Traquair of Wellington Farm and we have chosen 3 good, flavoursome cuts. Two of these we have confitted in garlic-and-thyme flavoured duck fat for 12 hours. Once chilled the tongue is sliced and marinated it in sugar, soy and ginger for a Smokey BBQ flavour, then grilled before serving. The succulent confitted cheek meat has been mixed with sautéed root vegetables and a reduced pork demi glaze, chilled then rolled into a bon bon and panne'd with scotch pinhead oatmeal and brioche crumb, which we will deep fry in Perthshire rapeseed oil for extra flavour… mmm. The smoked bacon loins are filleted, removing all back fat, then cut into cylinders and cured in a hot garlic, thyme and honey marinade which will reduce the salty cured bacon flavours in the meat and add some delicious sweetness to the dish. To accompany the trio we have made a peppered carrot and swede puree (clap shot) and added some shredded shallot and savoy cabbage pan fried with bacon lardoons for the pork to sit on. We have used Andrew and Anita's Stirling's Tayside potatoes which we have turned (seven identical sides) and roasted in garlic and thyme flavoured summer harvest Perthshire oil. To finish we have sautéed Scottish dumpling apples together with some five spice then blended them together for my sweet and spiced apple sauce accompaniment".
Dessert: Tunnock's Tea Cake – Warm chocolate fondant with soft marshmallow centre served with lemon & lime crème fraiche.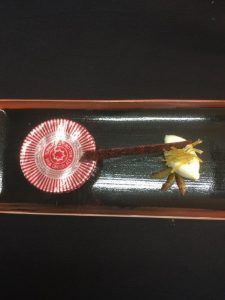 "'Deconstructed' is one of those cheffy words you hear time and time again on TV cookery programmes, and one I'm loathe to use to describe our food. But, this is essentially what we have done to the Uddingston's greatest export. The chocolate fondant is filled with a light marshmallow giving it and even gooier soft centre, which will ooze out when you dive in with your spoon. To complement the bitterness of the chocolate, we have served this with a citrus, lemon and lime crème fraiche. A fun finish to a twist on one of our childhood favourites".
BRONZE MEDAL WENT TO – BT Murrayfield Stadium.