Meet Candice Webber
This month we interviewed Candice Webber, Sales & Development Chef for Elior UK to see what inspires her.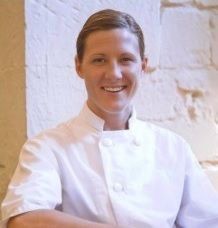 How long have you worked for Elior?
A year now.
Working for my folks at their Deli in Sydney. I would collect the teachers' pre-ordered lunch for $2.00 per week. On Fridays I could bring my friends to the deli for a treat. We chose my Mum's New York Baked Cheesecake – the best!
Your favourite recipe/dish?
I love Osso Bucco with Risotto alla Milanese. To cut the fat a little Gremolata, just the way my mum made it. My cool season favourite!
Stefano Manfredi, dressed in Mambo and Vans, had a great pallet and respect for eating the seasons. Anton Mosimann was a great self-marketer with a penance for his own cartoon image. Joao Cleto who taught me everything Spanish and Portuguese.
A piece of advice to apprentice chefs today?
Don't wait for someone else to educate you. If you love to cook – read, eat and listen your way to a career in food.
What's your favourite event you have worked on for Elior?
We had a marketing group at the National Maritime Museum who booked out the restaurant for a full day meeting. They were a healthy and interesting bunch of people – We played on this and had a cracking day with really engaging food that got them talking. We used lots of healthy alternatives to dairy with homemade almond milk, fresh pressed green juices and layered coconut chia seed pots along with lots of grains and house smoked fish and meats.
British produce played a heavy part. As a chef it is always exciting to deliver something that gets people excited and talking.
What do you think makes an ideal banquet menu?
Firstly understand your clientele and what they are looking for. Then then menu has to be balanced and suitable to the environment it is being served in.
For me it is not overly complicated food; focusing on great seasonal food prepared simply & cooked well. It's the detail around the menu that makes it successful.