Game of Thrones Launch Party, Southwark Cathedral
Sky Media kicked off the proceedings for Advertising Week Europe 2016 in style on Monday evening with an immersive Game of Thrones themed opening gala.  Southwark Cathedral, London was the venue of choice and over 600 guests were treated to a spectacular reception in the Gothic surroundings of the iconic Cathedral and even gained a glimpse of the trailer for the hotly anticipated Season 6 on the big screen.
Elior's team of fantastic chefs spent two days preparing over 2500 canapes which included delicacies such as
Brown sugar and treacle cured salmon with mojito syrup
and stylish
Beef brisket bao burgers.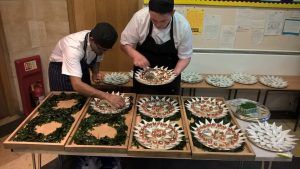 A VIP dinner followed the event for 150 guests who enjoyed a perfectly balanced menu of
Asparagus, broad bean and pea shoot salad with preserved lemon and tartar spiced labneh
Beef blade, crispy bone marrow spring greens and smoked butter mash
Dessert canapes: Turkish Delight, Coconut Macaroons, Pistachio and Cherry Brownie, Lemon Meringue Pies, White Chocolate and Salted Caramel Truffles with Rose Petals