The Elior Experience
BT Murrayfield Stadium provided the hospitality and venue for the latest training programme run by the Elior Academy  to create a new  cohort of Service Champions, with delegates from not just the stadium but our wider Scottish business joining together for two days of learning, fun and of course fine food!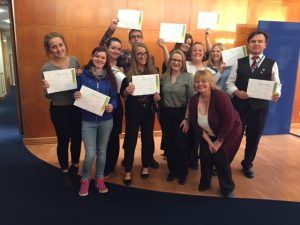 Pictured above (Left to Right) Heidrun Nielsen, Kourtney McPhillips, Nicola Stewart, Michael  Quinn, Chloe Halliday, Laura Morrison, Clare Short, Natalie Aird, Cath Wyllie, Natalie Lovegrove, Mo Sumaric.
What are Service Champions?
Service Champions are Elior's subject matter experts when it comes to talking about the eXperience service culture. They are responsible for liaising with their managers for guidance on specific subjects, creating the framework for a service conversation to happen, preparing any necessary materials and then hosting on a regular basis.
Those chosen to fulfill the role of Service Champions are Elior colleagues who already demonstrate a passion for service in their own role. Colleagues who are respected by their peers and who feel comfortable playing the role of conversation host.
Training
They undertake a two day learning journey with Elior's in house Academy where they find out about the Elior eXperience culture standards and how to embed them in the day to day life of their teams. Also how measuring the success and building on these standards will ensure service is continually improved for customers, making their experience of Elior an even better one. Service Champions leave their two day training with a host of materials, added to some additional skills and extra knowledge – not to mention a badge and certificate – thus setting them off on a great footing for their work back at site.
Whether it's that simple first impression, to the individual engagement with each customer or how to juggle the many tasks teams have with a customer mind-set, Service Champions are at the forefront of conversations to develop the levels of service in all Elior business.
For as we know in Elior, the whole experience really does matter. 
If excellent service and fabulous food are as important to you and your clients as it is to us, then don't hesitate to contact us when you are planning your next event.